Latest News from West Country VW Camper Hire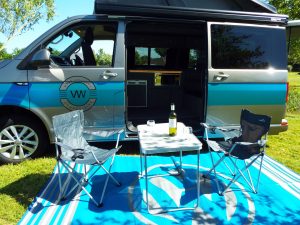 When can we go camping again in England? That is a good question and one we are being asked regularly by our customers who are desperate to go camping in one of our hire campervans.
Jetting abroad on a flight seems unlikely or should we say, undesirable to many, so going on a camping holiday is a great alternative.
Although the Government has not officially confirmed the date, all eyes are on 4th July as being the start of campsites being allowed to reopen.
The desire to get away is increasing daily and, it's fair to say, we are all looking forward to being 'allowed' to take a break. You don't have to go far to get away from it all and supporting your local businesses and shops is really the best option, if you can.
As campsites prepare to reopen on July 4, the question is, will they be allowed to open their shower and toilet blocks?
If opening campsites conveniences is restricted by the Government, campers will be required to have their own toilet and shower. So, hiring a campervan from West Country VW Camper Hire, is the best way to make sure you are independent and have your own facilities.
As well as all the camping equipment you will need, our hire campervans have a shower and toilet (Popaloo) with a pop-up tent available so you can be completely independent of communal wash facilities.
The Camping and Caravanning Club has announced that the majority of its sites in England will open when the country enters phase 3 of lockdown, when most hospitality businesses will be allowed to return following more than three months of closure. When you book with us, and also book a campsite with the Camping and Caravanning Club, you will be eligible for up to 30% as West Country VW Camper Hire are privilege members.
So, if you are looking for the perfect campervan for your camping trip for when we get the green light, make sure you visit our website to hire your campervan from West Country VW Camper Hire.
Visit our website and book now to avoid disappointment!